Vesalius Trust-a-thon, A Virtual  Challenge and Fundraiser
September 18 – October 1, 2022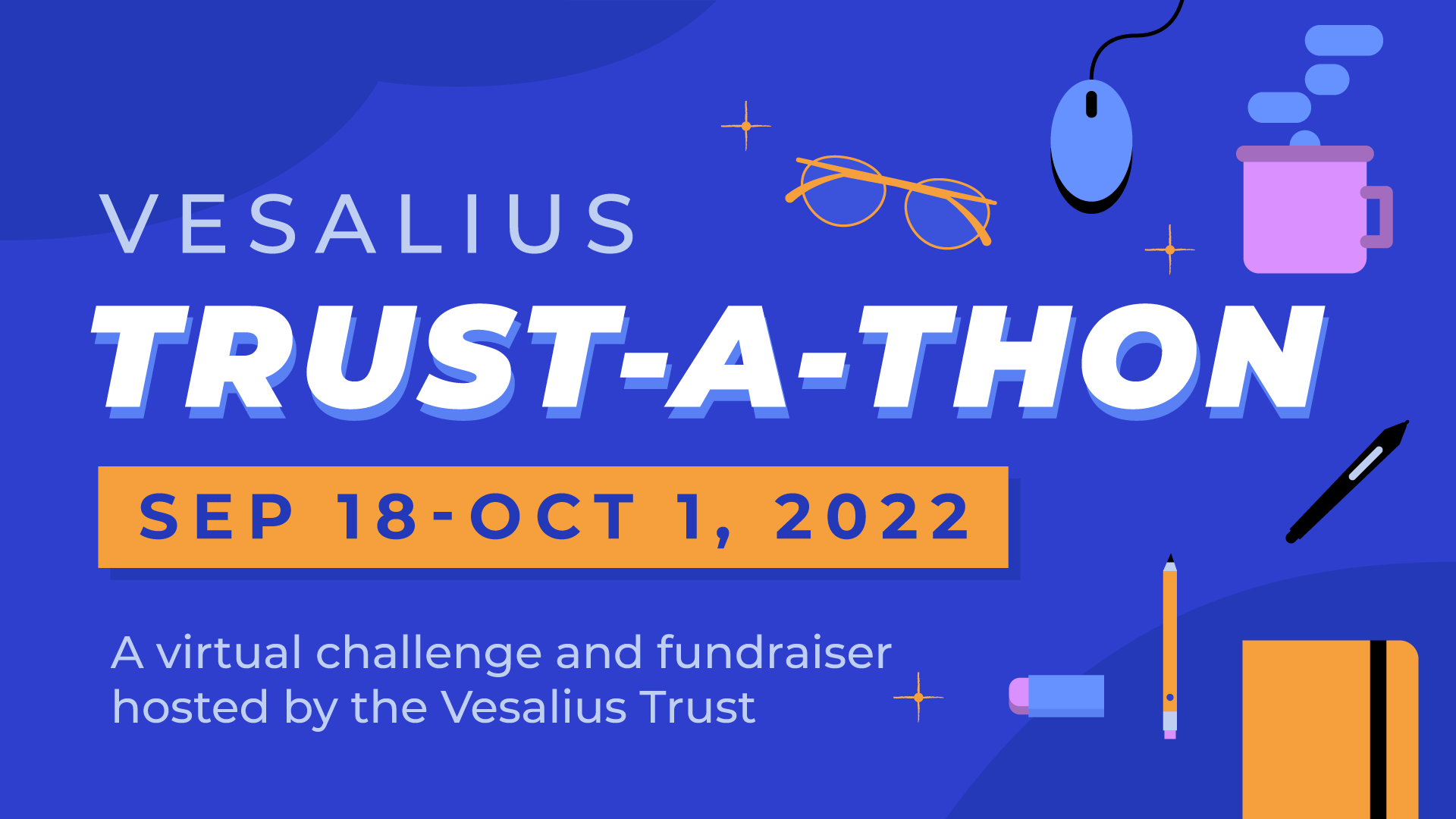 THANK YOU!
Together we raised a total of $6,459.00 USD for student scholarships and awards, and created 7 amazing pieces that show the potential of visual communication for science and medicine.
We can't thank our teams enough for their wonderful creativity, and herculean efforts in finishing their submission, and raising funds in the past two weeks. They bring innovative and positive energy to the community and profession, and we are truly grateful for their work and support. We also thank our donors from the bottom of our hearts, for their continuous support.
We extend a big congratulations to our People's Choice award winner, Battle AXS, and the Trust-a-thon Winning Team, BVIS Inc.!
About the Vesalius Trust-a-thon Challenge and Fundraiser
The mission of the Vesalius Trust-a-thon is to encourage individuals to connect and create together while raising funds to support student research in the medical and scientific communication field.
Like a hackathon, our teams have about two weeks to develop a scientific or medical communication piece based on a secret theme. Teams will earn points based on funds raised, as well as likes and votes collected.
100% of funds donated will go towards the Alan W. Cole Memorial fund which provides student scholarships.
Meet Our Teams
Check out the team pages to learn more about each team, their final submission, and process work!
Team 6-cess
Xinyi Li, Linda Ding, Viola Yu, Jessica Feng, Livia Nguyen, Amy Zhu
Learn more about their final submission, "Floresta," an interactive visual narrative designed to inspire users to develop better sleeping habits through an educational and fun approach.
Team Big Maquette Connoisseurs
Joshua Koentjoro, Amy Jiao, Avila Sanchez, Emily Tjan, Stephen Nachtsheim, Vanessa Ngyuyen
Learn more about their final submission, "Gerbil Power," a card game where players of all ages collect energy resources to build and innovate energy technologies.
Team Spicy Salamanders
Ashlyn Fieldhouse, Anais Lupu, Lilith Lawrence, Neramy Ganesan
Learn more about their final submission, "A Greener Way to Travel," an animated timeline where their protagonist, Phil the Spicy Salamander, introduces important advances in automobile fuel technology.
Team BVIS Inc.
Eliza Stierle, Caroline Chatfield, April Damon, Amy Hoang, Sara Lung, Aven Jones, Susie Hammons, Eyzel Torres, SoYoung Kwon, Odelia Cheng, Dalena Huynh, Riley Cutler, Katherine Tran, Sydney Sieh-Takata, Lauren Muskara, Hannah Koffman, Shanling Lei, Khorizon Dunn, Leah Balsan, Nina Eckstein, Laurel Moore, Luca Brunozzi, Sam Bond, Elissa Schaffner, Alexandra McDonough, Delilah Pryzbyla, Sofia García Martínez
Learn more about their final submission, "The Night Shift," a game where you'll be helping Patch, handyman extraordinaire, as he assists some of the other body systems on the Night Shift.
Team finalfinaldraftv4.ai
Michie Wu, Tina Wang, Shay Saharan, Aimy Wang, Mimi Guo, Viktoriya Khymych, Amy Assabgui, Jeff Day, Kelly Lim, Kai-ou Tang, Amy Zhang
Learn more about their final submission, "Positive Energy Island," a poster of the island inhabited by energies that power the mind, body, and world around us.
Team Blood, Sweat, & Tears
Shubhreet Johal, Naomi Wee, Juno Shemano
Learn more about their final submission, "Bugs: The Future of Protein," a manga comic about alternative protein sources.
Team Battle AXS
Jason Sharpe, Eddy Xuan, Joyce Hui, Matthew Ostil, David Tran, Chelsea Canlas, Ruth Chang, Stephanie Marquez, Lucas Lin
Learn more about their final submission, "CRUNCH TIME," a game about a team in a crunch to finish a game—and how to keep them fueled.
Team Point Totals
Last updated: Oct 13, 2022, 10:30 EST
Teams
Funds raised
(1$ = 1 pt)
Likes
(from Sep 25 – Oct 1)
(1 like = 10 pts)
Votes
(from Sep 28 – Oct 1)
(1 vote = 5 pts)
POINT TOTAL
Team 6-cess
740
289
132
4290
Team Big Maquette Connoisseurs
1035
257
345
5330
Team Spicy Salamanders
440
60
12
1100
Team BVIS Inc.
1440
376
345
6925
Team finalfinaldraftv4.ai
1035
87
55
2180
Team Blood, Sweat, & Tears
390
60
19
1085
Team Battle AXS
1379
117
421
4654
Total funds raised: $6459 USD
Trust-a-thon Guidelines
For the full list of challenge guidelines, click here.
For questions and inquiries, email canlas@vesaliustrust.org with the subject line: Trust-a-thon.
Important Dates
September 17
Deadline to register teams; secret theme announcement
September 18
Trust-a-thon week begins! Fundraising pages are live
September 25 – October 1
Team posts that will collect likes for points will be posted on VT social media channels
September 28 – October 1
Voting links are live
September 30
Deadline to submit final pieces (11:59 PM PST)
October 1
Team submissions are showcased online; voting ends at midnight
October 2
Winners announcement
Secret Theme
The secret theme is… NEW ENERGY.
Final pieces must include medical or scientific content to be eligible for the prizes. Kindly keep the content appropriate for general audiences – let's keep it kid-friendly!
Challenge Details
The Trust-a-thon will run from Sunday, September 18, to Saturday, October 1.
What is a Trust-a-thon?
A Trust-a-thon is similar to a hackathon where people come together and create a theme-specific product or piece in a short period of time.
Our teams have about two weeks to create a scientific or medical-themed communication piece. The piece must be based on a secret theme, and completed in two weeks time – but it's ultimately up to the team to decide how much time they want to spend on this.  
Although our goal is to raise funds for scholarships and awards, the Trust-a-thon is also a wonderful opportunity to make something fun, try out new techniques and skills, and connect with other creative individuals virtually! This year, we're setting up a Discord channel so our teams can hang out and connect with each other.
The Challenge
Teams will create a communication piece inspired by the theme, "NEW ENERGY." The finished piece can take the form of a:
2D or 3D illustration

Comic

3D model

Short 2D or 3D animation

Interactive prototype (web, AR/VR/XR)

Donor appreciation gifts (e.g. digital poster or wallpaper, stickers, limited-edition 3D prints, etc.)
All teams will have from Sunday, September 18 to Friday, September 30 @ 11:59 PM PST to work on their communication piece and submit their final artwork. 
Team Scoring
The team with the most points will be the Winner of the Trust-a-thon Team Challenge, while the team with the most votes will be awarded the People's Choice.
1$ raised = 1 point
Raise funds to support student research. Each team will be provided a GoFundMe
page to share
1 vote = 5 points
Collect votes from September 28 to October 1. Each team will be provided a voting link
to share
1 like = 10 points
Collect likes from Sep 25-Oct 1. There will be a designated post per team on VT social media channels
Prizes
Thanks to the generous support of the AMI, this year's prizes are:
Winning Team
A bumper video at AMI 2023 featuring the team's final piece
People's Choice
A salon entry at AMI 2023 featuring the team's final piece
Final pieces must be scientific or medical-themed to be eligible for the prizes.