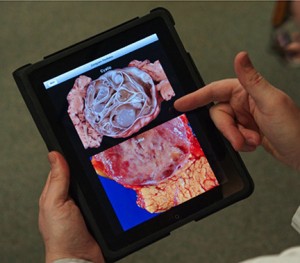 2012 Dr. Frank H. Netter Award Recipient
Ralph Hruban, MD; Bona Kim, MA; Corinne Sandone, MA, CMI; and Toby Cornish MD, PhD
The Vesalius Trust is pleased to announce the 2012 recipient of the Dr. Frank H. Netter Award is The Johns Hopkins Atlas of Pancreatic Pathology. This innovative, visually based training product is delivered on an iPad and improves understanding of medical information. The atlas was created by Ralph Hruban, MD; Bona Kim, MA; Corinne Sandone, MA, CMI; and Toby Cornish MD, PhD. The application supports the display of high-resolution images covering 115 diagnostic entities with 1,400 photographs and 26 medical illustrations.
Distinguishing among the various tumors that can develop in the pancreas is critical to patient care, and yet pancreatic pathology can be exceptionally challenging. Studying many examples of each entity is important in the training of a diagnostic pathologist as it exposes the trainee to the full range of appearances of each entity. This atlas consists of an interactive diagnostic algorithm, a searchable image atlas, and an image-based quiz. Dr. Jon Davison, Assistant Professor of Pathology at the University of Pittsburgh commented, "I have found that the algorithmic approach presented in the application for distinguishing tumors in the pancreas is a very effective way to teach our own residents to recognize the most common types of tumors and pathologic entities in the pancreas. This algorithm is presented elsewhere in print; however, the iPad application facilitates comparisons between entities and permits the manipulation of the material in a way that is not possible with a bound book."
The Johns Hopkins Atlas of Pancreatic Pathology is a free application from the Apple store. It shares the expertise of a world-renowned pathologist and exceptional visual communicators with healthcare providers worldwide.
For additional information, see a video demonstration on Vimeo.