2021 Vesalius Trust Poster Symposium
July 2021
The Vesalius Trust Poster Symposium, in co-operation with the Association of Medical Illustrators, has gone virtual this year! This is an opportunity for 2020-2021 applicants to the Vesalius Trust Scholarship Program to present their work in the format of a fast-forward video and poster. On behalf of the scholars and the Vesalius Trust, we are grateful for the support of our donors in enabling high quality research in the field of biomedical communication.
Stay tuned for these works in an upcoming issue of the Journal of Biomedical Communications.
Transforming Confocal Microscopy Imaging Data of Retinal Vasculature into 3D Animation
Best of Show
Emi Frohn, Biomedical Visualization Graduate Program, University of Illinois at Chicago
Abstract: This research study presents a methodology for creation of 3D models from confocal microscopy, specifically the retinal trilaminar capillary network, that can be used in 3D biomedical animation. Biomedical visualization professionals regularly use CT and MRI imaging data to create 3D models and other visuals. Adding confocal microscopy to this toolkit using ImageJ FIJI1 and Materialise Mimics® allows for a wider range of options to create data-driven 3D models of microscopic structures. Understanding the interactions of the neurovascular unit through visualization may be a key to advancing understanding of normal function of the retina and diabetic retinopathy pathology.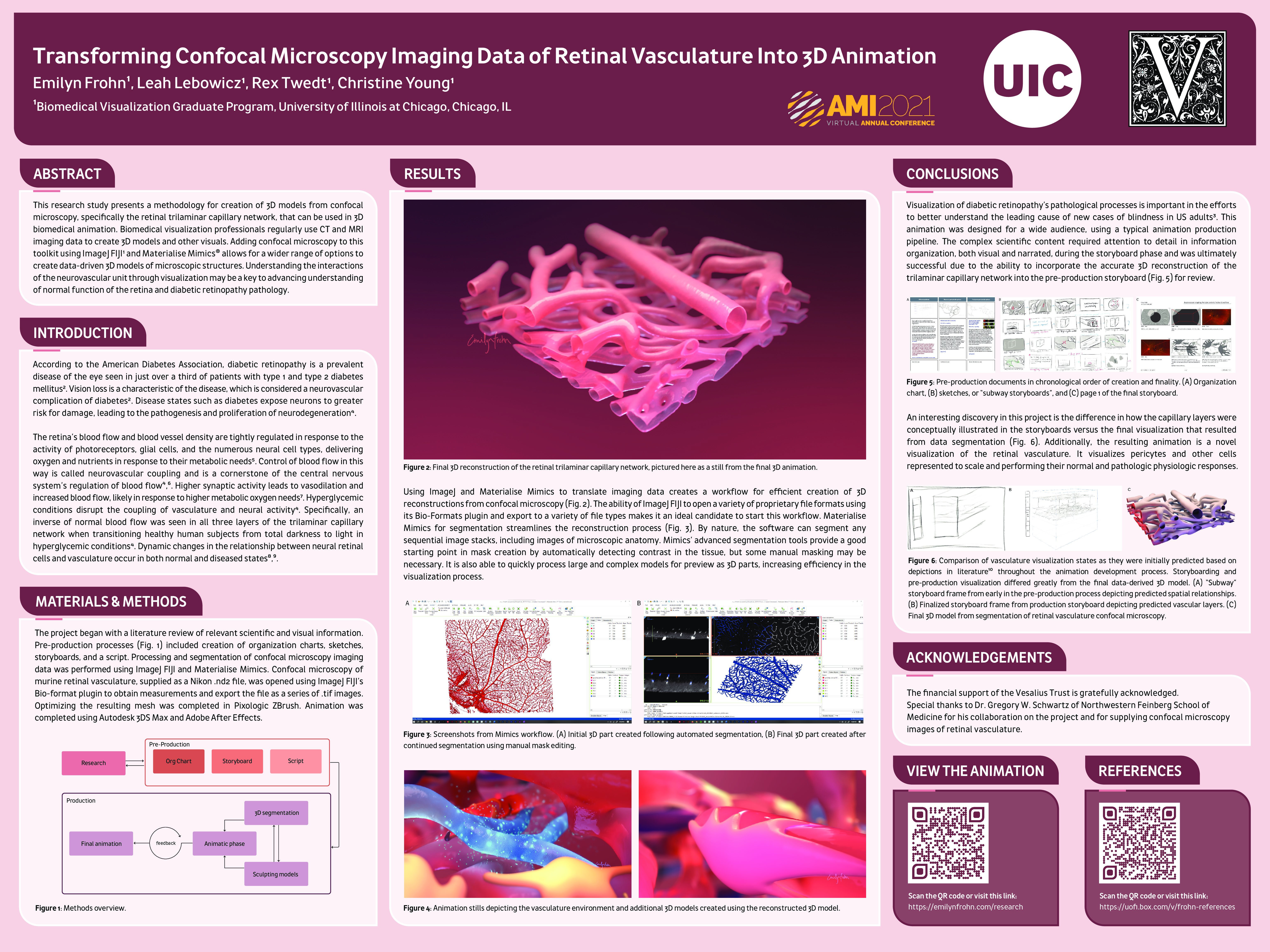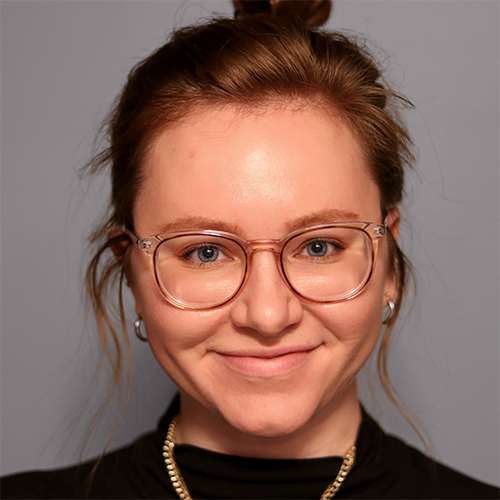 Emilyn Frohn is a biomedical animator, designer, and visual storyteller. Inspired by unseen science and cutting-edge 3D animation, Emi enjoys dissecting scientific stories to creatively solve problems. Her Master's Research utilized confocal imaging data to elevate scientific accuracy for a 3D animation about neurovascular coupling disruptions in diabetic retinopathy. She is a 2021 graduate of the University of Illinois at Chicago's Biomedical Visualization graduate program and earned her B.A. in Biological/Pre-Medical Illustration from Iowa State University in 2019. Emi is pursuing a career as a medical animator and is excited to continue marrying science storytelling and innovative visual solutions.
Animation as an Informing and Encouraging Tool for the Usage of HIV Self-Tests
Ava Schroedl, Biomedical Communications Graduate Program, University of Toronto
Abstract: For the first time, an HIV self-test is now available to people living in Canada. HIV self-tests remove many of the barriers seen in standard point-of-care testing. Yet, some barriers remain. Functioning as public health tool, an animation is being developed to promote the safe and accurate usage of HIV self-tests. This animation aims to decrease anxiety and psychological information avoidance and aims to appeal to a wide range of audiences.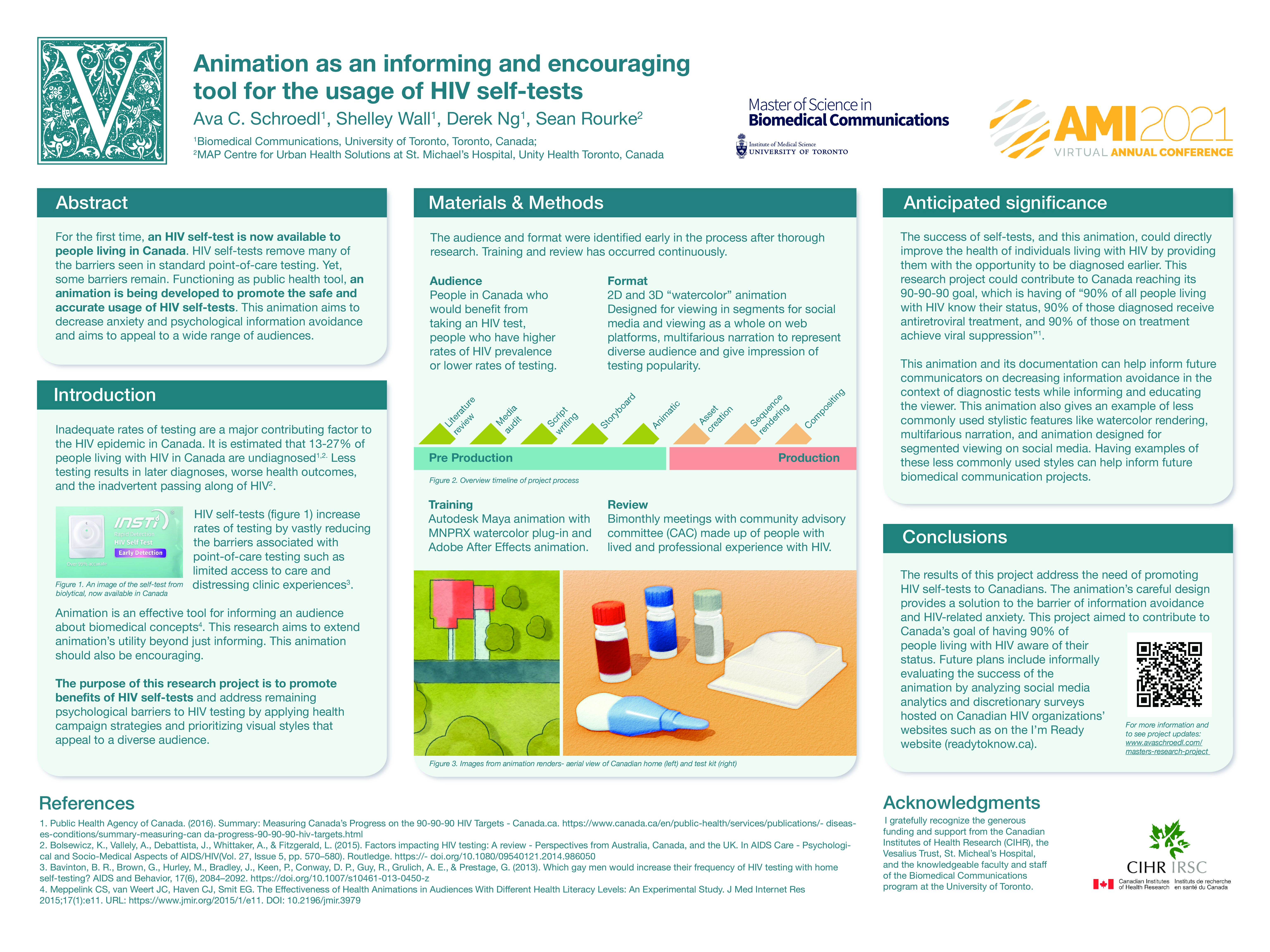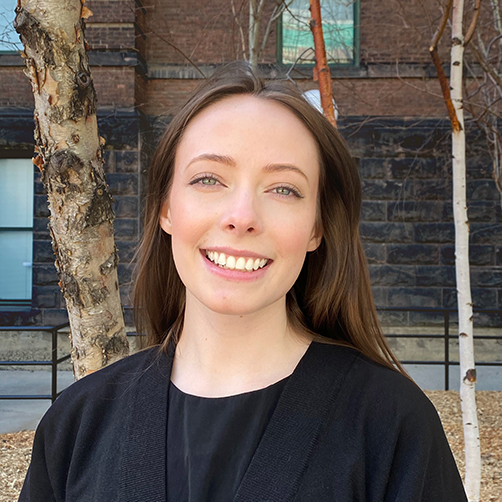 Ava Schroedl is currently living in Minneapolis, MN and is excited to see where her career takes her next. She is interested in a wide range of medical illustration applications such as animation, illustration, comics and more. And, she would love to have the opportunity to work on additional projects related to reproductive health. In Ava's poster presentation, she discusses the design choices behind her animation about an empowering healthcare product.
Designing a Low-Cost Simulator for Ultrasound-Guided Liver Biopsy with Inertial Tracking Technology
Siwen Wang, Biomedical Visualization Graduate Program, University of Illinois at Chicago
Abstract: This project explored how to integrate smartphone inertial tracking technology and virtual 3D anatomical models in creating a biopsy simulator for ultrasound-guided liver biopsy. The prototype simulator allowed the virtual ultrasound probe and biopsy needle to be tracked by the smartphone's built-in inertial tracking system and ultimately allowed the trainee to control the movement of the virtual probe and needle in a manner similar to a real biopsy technique. It offers a promising low-cost option for simulating medical procedures with motion tracking functionality while maintaining realism to a certain degree.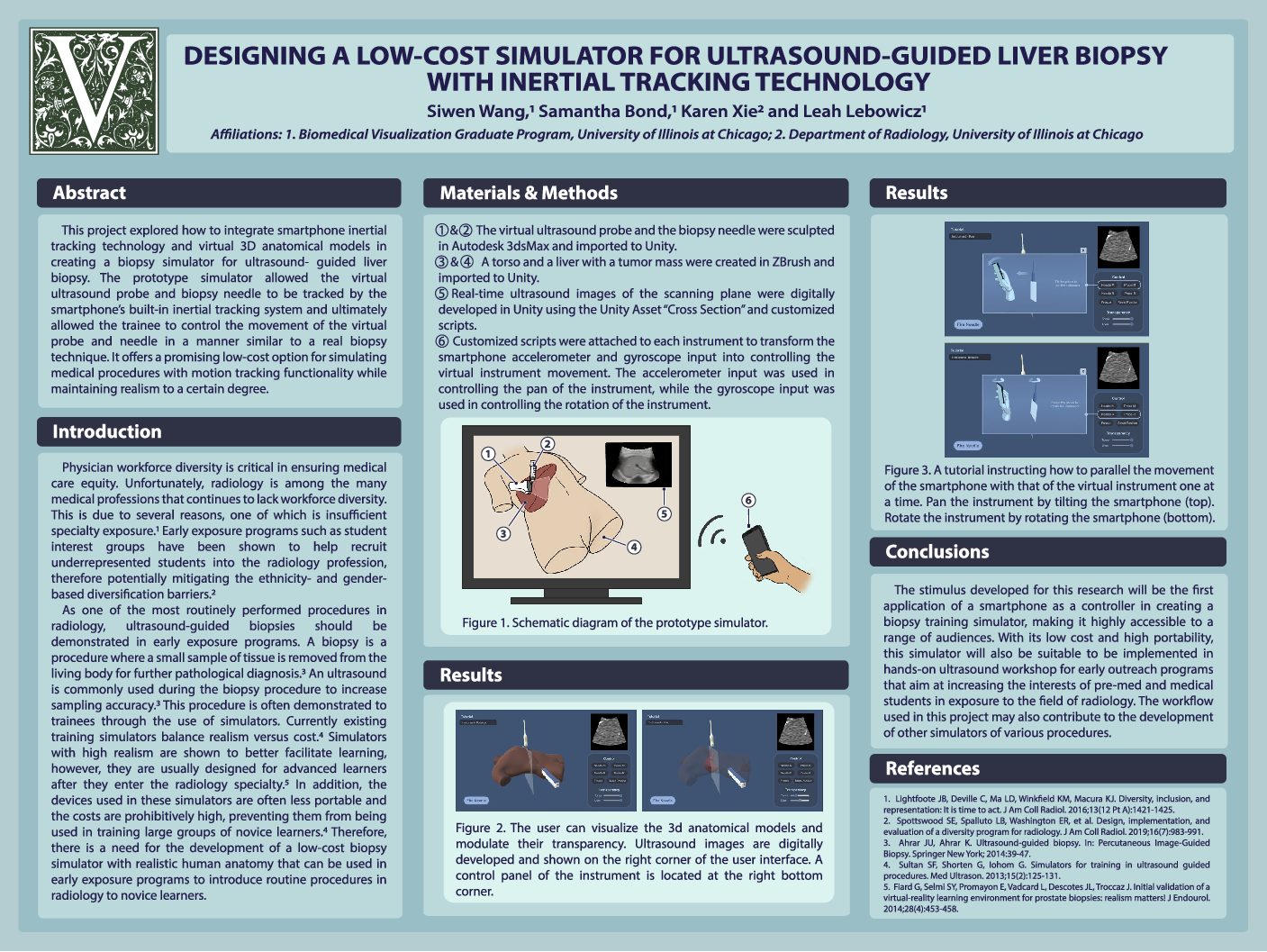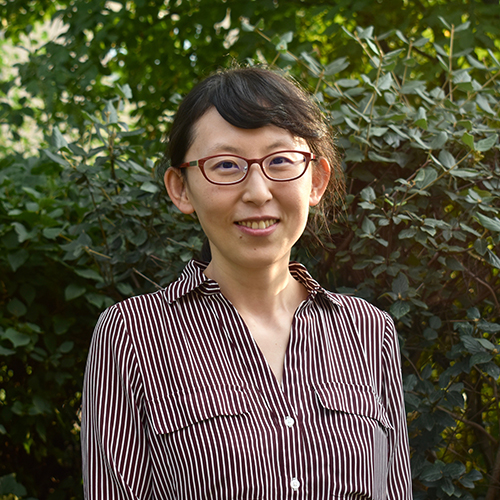 Siwen Wang earned her PhD in biochemistry at Purdue University with a concentration in computational life sciences. She then went to the Biomedical Visualization Graduate Program at University of Illinois at Chicago. Her interests lie in designing and developing interactive programs to help communicate science and medicine. Her research aims at developing a low-cost and portable simulator to introduce ultrasound-guided biopsy to novice learners.